Dear Sovereign Redeemer and other friends,
First, this post signifies that I am back in the blogosphere. My last post was October 10, 2012, and it was sparse before that. Self-admittedly, that is pitiful. So while I'll never be up for blogger of the year, I am rededicating myself to regular entries because there are simply too many benefits to the thinking and precision required by the discipline of writing. Even if no one ever reads a single entry, I will be more well thought-out, more precise, and more articulate on the topics I undertake. Those things are all important.
Now to a piercing quote from J.C. Ryle:
"I do urge on every professing Christian who wishes to be happy, the immense importance of making no compromise between God and the world. Do not try to drive a hard bargain, as if you wanted to give Christ as little of your heart as possible, and to keep as much as possible of the things of this life." (Holiness, chapter 10)
I will save you the commentary on how hard this hits me personally, and get straight to the question: Do you find yourself wanting to give Christ as little of your heart as possible? There is only one solution: REPENT. True repentance secures times of refreshing from the presence of the Lord (Acts 3:19, and though this verse speaks of the initial repentance of salvation, it is also true of the ongoing repentance of believers as they are sanctified).
Finally, a dear friend and Deacon of the church had a celebration to honor the contributions of J.C. Ryle on May 10, Ryle's birthday. Though he has now been dead for more than a century, his writings may be having a greater impact now than at any other time. I am a grateful student.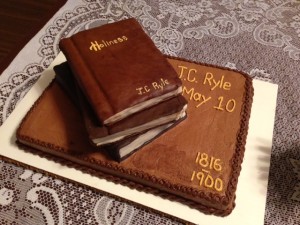 (Yes, the books were edible!)