Dear Sovereign Redeemer and other friends,
The first stop on the road to preparing a sound, expository sermon should definitely be the Bible work. Once that has been given lavish attention, there is most certainly a place for consulting a variety of sources about the text. God has given tremendous insight into His word to various ones throughout the centuries, and we are well served to consult them, especially in areas of difficultly or controversy. Exclusively trusting our own insights is the height of arrogance and folly.
Let's divide our consideration into two categories: study Bibles and commentaries.
Study Bibles
I prefer to start by reading through the notes of multiple study Bibles, since the content in a study Bible is by nature limited and more high level. A study Bible helps unpack the meaning of a text without going into extreme detail, and when several are consulted, a number of different perspectives emerge.
Here are the four that I consult on a weekly basis, usually in this order:
At the time of this post, all four of these study Bibles can be acquired for a total of just in excess of $100, so the costs aren't prohibitive at all.
The genius of these four study Bibles is found in the distinctions. They are different enough to all be indispensable in the grouping. The last thing a studying pastor should want is to sequester himself in an echo chamber with only sources which never contradict his own inclinations. Having a diversity of sources with at least slightly different perspectives is beyond a good idea. It is safe. And beginning with these more limited, summary level sources actually helps me to be ready for what comes next.
Commentaries
After having gotten my feet wet, so speak, with the study Bibles, more comprehensive commentaries then provide greater depth and breadth. They provide more information and more fully treat the difficulties and controversies in the text.
Here are a few of my favorites:
As I read the notes in the study Bibles and the content from the more comprehensive commentaries, I highlight what I find to be the most important, relevant, and insightful sentences and then put them in my study file. Here is what my study file looked like after having done that, using a sermon on Nehemiah 13:10-14 as an example: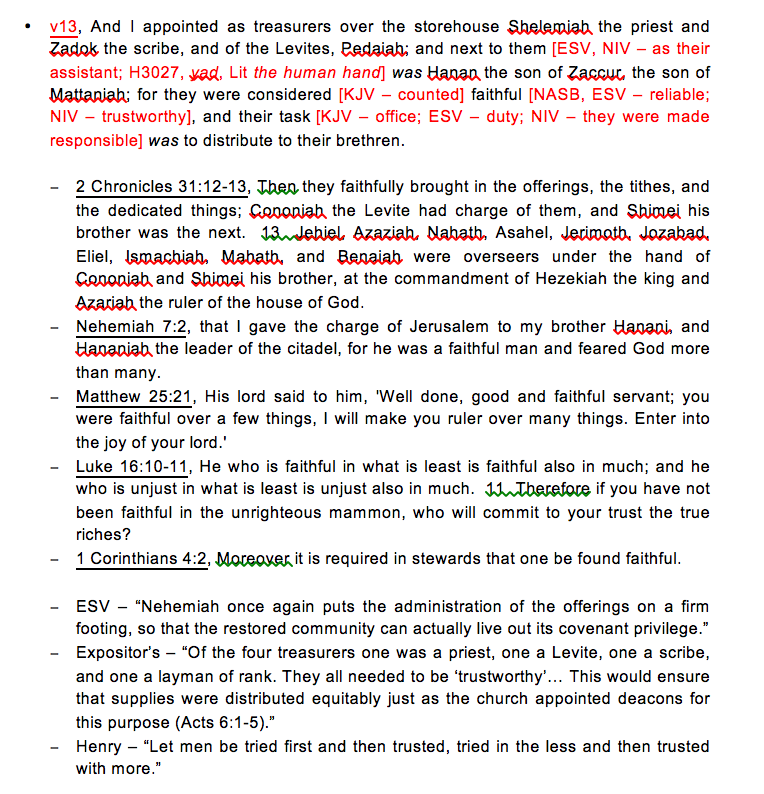 If you want to see the whole file, you can access it here.
On an average week, this represents 3-5 hours of work.
At this point in the process, the reading I intended to do is complete. The topic of the next post will be preparation for writing the sermon.