Dear Sovereign Redeemer and other friends,
Psalm 127:3-4 says this: "Behold, children are a heritage from the LORD, the fruit of the womb is a reward. 4 Like arrows in the hand of a warrior, so are the children of one's youth."
This past Saturday, June 13, 2015, the first Dohm arrow was launched into the world for King Jesus. Here is a pic, taken just a few minutes before we entered the sanctuary.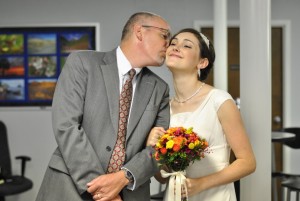 Scott Brown, who officiated Janet and my wedding almost twenty-four years ago, did the same for Anna and Tyler on Saturday. Here are the four points from the wedding sermon, which Scott addressed to the couple:
You are walking through a door. Marriage is God's holy institution which He loves (Malachi 2:11), so people who marry should understand that they are entering into something that God created for His own purposes.
You are making a home. God wants marriages that bring heaven to earth, creating wonderful little worlds – homes – where God is loved and obeyed, and where the sweetness of His kingdom is known every day.
You are declaring a gospel. As Paul makes so clear in Ephesians 5, marriage is intended to depict Jesus Christ's life-sacrificing love for His bride, the church, and the bride's honor for and obedience to Christ.
You are preparing for heaven. Marriage is wonderful because it is a foretaste of the great celebration at the culmination of history, spoken of in Revelation 19:7-9:
"Let us be glad and rejoice and give Him glory, for the marriage of the Lamb has come, and
His wife has made herself ready." 8 And to her it was granted to be arrayed in fine linen, clean and bright, for the fine linen is the righteous acts of the saints. 9 Then he said to me, "Write: 'Blessed are those who are called to the marriage supper of the Lamb!'" And he said to me, "These are the true sayings of God."
What a delight to have launched Tyler and Anna out into the world to serve their King more fruitfully together than they even did apart.